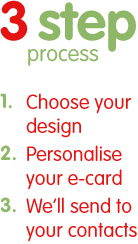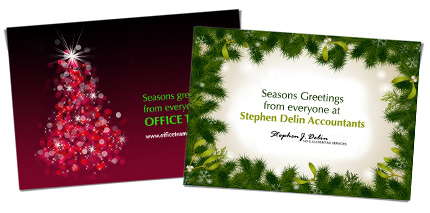 An estimated 1.7 billion Christmas cards are sent each year in Britain, the equivalent of 200,000 trees. Do your bit to help reduce this waste by sending e-cards to your business contacts, customers, clients, colleagues and friends - and demonstrate your corporate responsibility at the same time.

Each e-card is addressed personally, e.g. "Dear Sarah" (optional)
Personalise your greeting with a message
Choose a design from the extensive selection below
Drive traffic to your website by including a link
All e-cards are sent using secure mail servers
All email addresses provided by you are stored securely
and deleted after your e-card has been mailed



We have a great selection of designs to choose from, ranging from traditional Christmas scenes to abstract modern designs. We're sure there's one that truly reflects your company's personality. Click on images below.


Once you've chosen a design, we will create a unique e-card tailored for your company including your corporate colours, logo and personal greeting of your choice. We can even drive traffic to your website by including a web link.


Don't overload your email system, simply provide us with a list of your recipients and we'll manage the mailout for you on any day and time of your choice! All e-cards will appear to have come from you personally, with your own "from" name and "reply to" address. We'll also provide you with a post mail report so you can see the resulting activity, and clicks to your chosen link.
Your emails as well as all the information you give us will NOT be shared with any outside company or third party.


That's all there is to it! Contact us today and let's us take the hassle out of sending your company e-card.